MONTREAL, QC – Forty-two years after Canadian hero Terry Fox ran across Montreal's Jacques Cartier Bridge, the cancer research institute named after him is establishing a second Canadian office, located in Quebec's metropolis's downtown core, to expand its scope and reach across the country.
The Terry Fox Research Institute's (TFRI) new office and team, based at the Montreal Clinical Research Institute (IRCM), follows in the steps of the Vancouver headquarters and is part of the Institute's desire to have a greater presence in eastern Canada. It will play an important role as TFRI ramps up its research capacity and continues to build strong connections and partnerships across Canada through the newly launched Marathon of Hope Cancer Centres Network (MOHCCN).
With up to $150-million from the Government of Canada, MOHCCN aims to unite cancer centres across the country to enable access to precision medicine for patients, no matter where they live in Canada.
"With this expansion, we are building a national network of research excellence across the country for the benefit of cancer patients everywhere in Canada. Terry's dream to eradicate cancer is also our dream," said Dr. Jim Woodgett, TFRI President and Scientific Director.
"Opening a TFRI office in Montreal, and for it to focus primarily on the Marathon of Hope Cancer Centres Network, is something I know Terry would be happy to see," said Darrell Fox, brother of Terry Fox.
"It's very exciting to be part of such an unprecedented pan-Canadian initiative that really has the ability to make a difference for cancer patients across the country. This is a major tool in Canada's roadmap to cure cancer," said Dr. André Veillette, MOHCCN Executive Director. The Montreal immunologist and Director of the Molecular Oncology Research Unit at IRCM spearheads the pan-Canadian network, which comprises five regional consortia, including the Marathon of Hope-Quebec, co-led by McGill University and its affiliated hospital research institutes and Centre de recherche du Centre hospitalier de l'Université de Montréal (CRCHUM).
"At the IRCM, we are proud to be able to contribute to the great fight against cancer, which is still a major cause of deaths," remarked Dr Jean-François Côté, head of IRCM.
Patient perspective
The new network appeals to Montreal breast cancer survivor Dr. Nicole Beauchemin, a retired McGill University cancer researcher who now chairs the network's Patient Engagement Working Group. She's leading the MOHCCN's work to involve cancer patients in Quebec and other provinces.
"Two decades ago, when I was diagnosed with cancer, I received a number of harsh treatments that while effective, had a negative impact on my quality of life," said the 21-year survivor. "Precision medicine provides the best alternative to tailor treatments to fit the characteristics of each patient to improve their efficacy and decrease their effect on the quality of life of patients."
"To make this a reality, we need everyone's buy in, especially that of the patients whose data will be shared through the network, and that's what we're hoping to do through the Marathon of Hope Cancer Centres Network."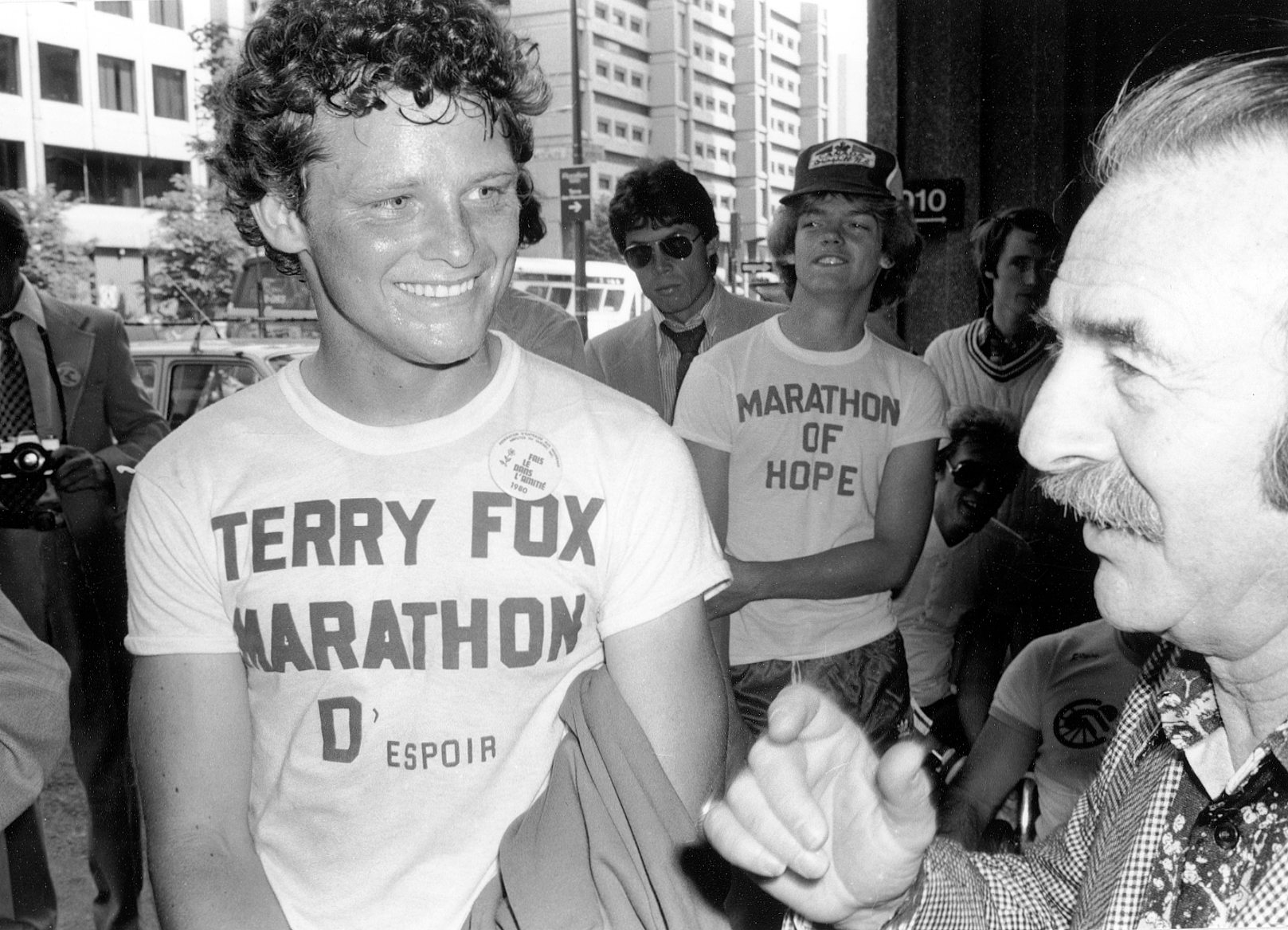 Photocredit: TFF (Michael Flomen)
Download video of Terry running through Montreal (Video Credit: Terry Fox: I Had a Dream)
ABOUT THE IRCM
The IRCM is an internationally renowned biomedical research institute located in the heart of Montreal's academic community. Founded in 1967, the IRCM was the first research center in Quebec to bring together basic researchers and clinicians under one roof. A unique model at the time, the IRCM is now one of the most successful research centers in the country, committed to nurturing the next generation of scientists at the highest level. The IRCM has distinguished itself in many areas of the life sciences, including promising work in immunology, virology, neurobiology, rare diseases and messenger RNA.
ABOUT THE TERRY FOX RESEARCH INSTITUTE
Established in 2007, TFRI invests in world-class, collaborative cancer research teams and partnerships. Together with its research and funding partners, TFRI is working to inspire the transformation of cancer research in this country by bringing together leading cancer research and treatment organizations in Canada and empowering them under the framework of the Marathon of Hope Cancer Centres Network and the Digital Health and Discovery Platform. www.tfri.ca; www.marathonofhopecancercentres.ca;
ABOUT THE MARATHON OF HOPE CANCER CENTRES NETWORK
The Marathon of Hope Cancer Centres Network is the realization of a long-standing vision of the Terry Fox Research Institute. Inspired by Terry Fox and his Marathon of Hope, the network represents a powerful collaborative platform that will close the gap between research in the lab and patient care in the clinic. Just as Terry Fox united Canadians with his run and dream to end cancer, the Marathon of Hope Cancer Centres Network will unite cancer researchers to pursue that same goal with precision medicine.
For more information or to arrange an interview, please contact:
Kelly Curwin, TFRI Chief Communications Officer 778-237-8158
Florence Meney, IRCM, Director of Communications 514 755-2516
With this expansion, we are building a national network of research excellence across the country for the benefit of cancer patients everywhere in Canada. Terry's dream to eradicate cancer is also our dream.
Related Team Members
MOHCCN Network CouncilHeadquarters and Operations

Headquarters and Operations